Mobile slewing pillar crane is designed for vertical and horizontal transport of loads within the range of slewing arm. Crane may be equipped with manual or electric chain pulley block.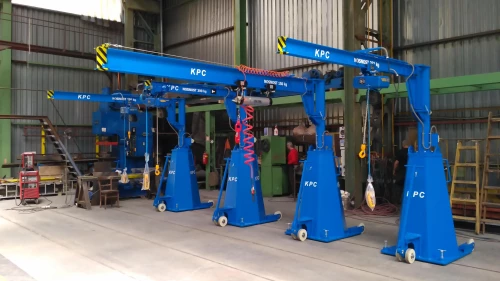 Portable pillar crane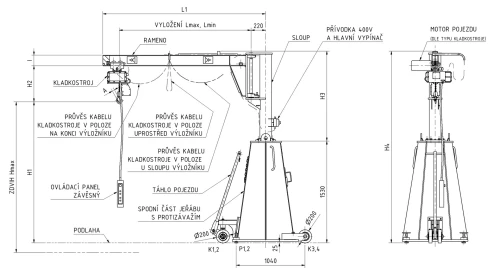 Portable pillar crane
Crane is mobile – on four wheels and only without load – manually displaceable, during use it is supported on two supports and two rear wheels.
Technical specification
Lifting capacity [kg]
Vyložení [mm]
100
1500
2000
2500
3000
4000
150
1500
2000
2500
3000
4000
200
1500
2000
2500
3000
-
250
1500
2000
2500
3000
-
300
1500
2000
2500
-
-
350
1500
2000
-
-
-
Pillar mobile crane consists of support with weight, column, slewing arm, travelling wheels, travel ties and pulley block. The slewing arm of I-profile is fitted on in the upper part of crane column. Chain pulley block which is fixed on travelling carriage moves on the lower flange of this arm.
Travel of the pulley block is limited with dismountable rubber dumpers on the maximum and minimum radius. Column is bolted together with crane support and it can be mounted on it in two positions. Either with the arm in the direction of tie of the manual crane travel or turn backwards by 180°C by arm against tie.
Crane can be relocated by operator, who pulls up the travel tie, and concurrently pushing by further workers by means of handles on the support. Eventually crane can be relocated by suspension on the suitable handling means by suspension eyes on the support.
Arm slewing is made by horizontal action on arm, eventually on suspended load or on the lifting chain. The extreme positions of arm slewing are limited by spring stops.